Interviews
Cristobal Henriquez: "I learned from Karpov, Smyslov, Fischer games"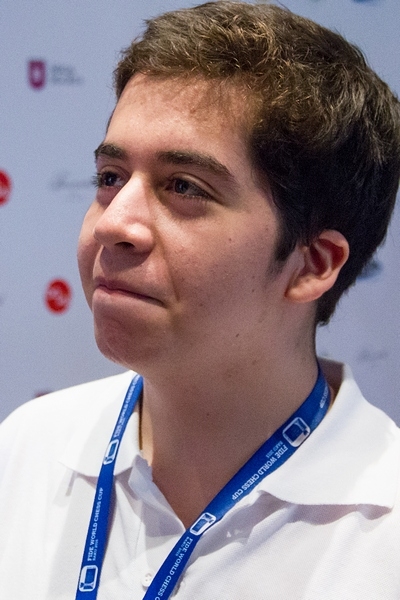 Cristobal Henriquez of Chile beat Boris Gelfand in the first round of the FIDE World Cup in Baku. Right after his triumph, the young IM gave an interview to our website, with the assistance of his coach GM Rodrigo Vasquez.
E.SUROV: Cristobal Henriquez is here with me. Perhaps he is the main hero of the first round of the FIDE World Cup. Cristobal, you have just defeated Boris Gelfand. How do you feel right now, what are you emotions?

C.HENRIQUEZ: It was very, very hard. I felt happy just to play with such a legend. The very fact was a joy for me. But, of course, I'm very happy with the result, I'm filled with emotions. Now I'm awaiting to play vs Julio Granda, a Peruvian GM.
E.SUROV: I have to say that the translation from Spanish to English is being provided by Cristobal's coach, GM Rodrigo Vasquez, who is also of Chile. So, did anybody in your team expect to qualify for the next round?
R.VASQUEZ: "Expected" would be too much to say. We didn't think of the result, we just kept preparing and tried to get our opportunities. In order to hope for the result, you have to make the way first.
E.SUROV: In the first classical game, Boris Gelfand had an apparently winning position, but he agreed to a draw. What do you think and how do you feel about it? Were you surprised?
C.HENRIQUEZ: I was very nervous, because of course my position was very inferior, but I felt that Gelfand didn't catch the advantage, and also there was mutual time-trouble with just 30 seconds left for each. So, it was not so easy for him. Gelfand didn't want to take any risks, he wanted to play some sort of quiet position.
E.SUROV: Is this success the biggest one in your career so far?
C.HENRIQUEZ: Yes, it is. Last year I became third in the World junior championship U18 in Durban, South Africa. But I've never played against 2600-2700+ players before, as I play mostly in Chile.
E.SUROV: Could you please tell a bit about yourself? Before this day, the chess world knew almost nothing about you. Or maybe your coach could tell us? What kind of chessplayer Cristobal Henriquez is, in brief?
R.VASQUEZ: I think he is a very talented player, his main talent is positional play. I think he'll show very quick progress – if we find the sponsors, of course!
E.SUROV: Do you have any sponsors right now? Are you being supported by the government? What's the situation with the support of chess in Chile, in general?
C.HENRIQUEZ: Actually it's the first time I've travelled by plane to a tournament together with my coach.
R.VASQUEZ: Some time before, he had no coach, no support, nothing. In general, our government doesn't support us. But the thing we've reached is that they helped us with the air tickets and the hotel here. That's all.
Cristobal works with Fundatec, which is a foundation for young talents. It pays me for coaching him. But it's only that, no travels, etc. And a chess player needs to travel a lot...
E.SUROV: Is Cristobal currently the most promising chess player in Chile?
R.VASQUEZ: Yes, of course. That's clear right now. He's reached this third place in the WJCC in Durban, which is a good sign of further improvement. But, you know, you need sponsors and many other things to improve in the chess world.
E.SUROV: The last question: who is your favorite chess player? What are the chess books you learned from?

C.HENRIQUEZ: My favourite players are Karpov, Smyslov, Fischer. As for the chess book, it's My Great Predecessors by Kasparov.
E.SUROV: Thanks a lot!
C.HENRIQUEZ: Thanks!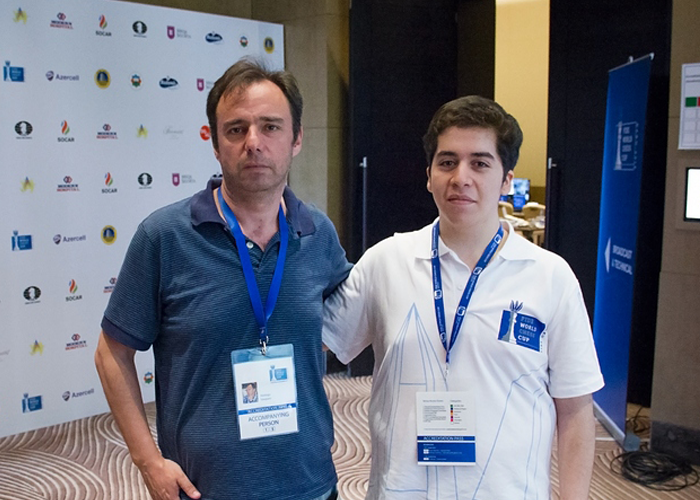 2015-09-14