Media about us
Baku World Cup Final 4: Karjakin the comeback kid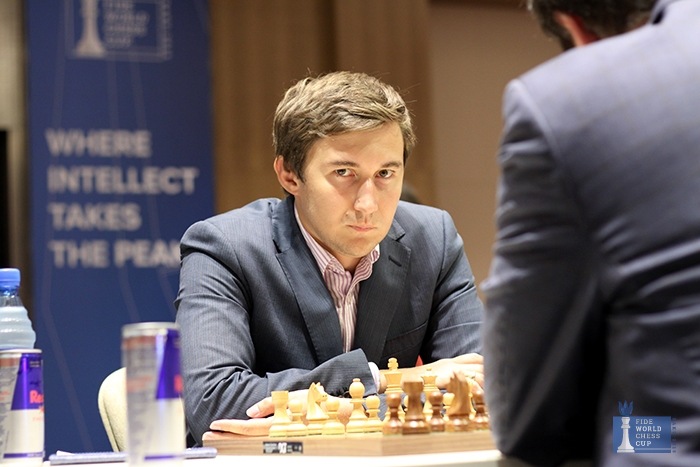 Sergey Karjakin just won't allow the 2015 World Cup to end... until tomorrow! | photo: official website
The last day has been a gut-wrenching ride for Peter Svidler. At 3:30pm on Saturday he must have played
28.Rxf2?
thinking he was about to complete a stunning 3:0 victory in the World Cup final – finishing the tournament unbeaten, picking up a bunch of rating points, winning the trophy for an unprecedented second time and taking home a cool $120,000.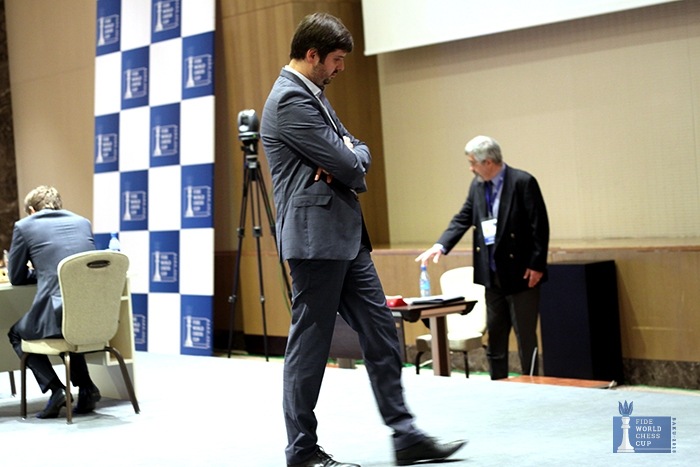 If the whole chess thing doesn't work out Svidler could surely have a second career as a race walker... | photo: official website
A couple of moves later he'd lost a shocking game, and then another 24 hours further on he faces the prospect of nerve-racking tiebreaks with the momentum firmly in his opponent's favour:

So what went wrong for Peter in Game 4? Well, it seemed, at a glance, he might have committed some typical errors:
1) A risky choice of opening
When Peter needed a draw to beat Anish Giri in the semifinals he explained why an exchange of queens on move 10 wasn't what he'd been hoping for:
My approach to today was I decided of course I will not play anything crazy in the opening, but I was planning to play a normal game. I wasn't planning to try and exchange too many pieces… I will have to defend a slightly passive position… So it forced me to do something I'm not particularly good at doing.
In that case Svidler had a slightly better position with the white pieces and things worked out well in the end, but in the final when queens were exchanged on move 6 he found himself defending a tough position with Black. Watching grandmasters were concerned
2015-10-05